Hereby the latest information. The weather forecast looks good, sunny although also warm temperatures to be prepared for.
Don't forget to wear comfortable shoes for walking in the city.
Thursday 15th of June we welcome you in the Vondelpark 3, at Park Zuid for our opening drink.
This is from 19.00 hours – 21.00 hours (7-9 pm). And might be outside by good weather.
For Friday 16th of June we start at 10.30 hours with a visit at the Grachtenmuseum (Canal Museum) at Herengracht 386.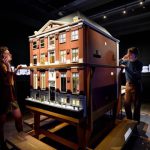 The Museum of the Canals is located in a 17th-century canal house on the Herengracht, with classical period rooms, a multimedia tour, and changing exhibitions. Here you will have time to spend in the beautiful canal garden as well with a refreshing drink.
In front of the museum the road is under construction. 
Please let the working men know you'll visit the museum if they will guide you to another direction.
After this visit you'll have a free afternoon before 20.30 hours we have our dinner at the Amstel Hotel, Professor Tulpplein 1.
(We previous mentioned a boat tour but this part of the program is canceled due to insufficient reservations)
Saturday 17th of June we have our farewell lunch together in de Rode Hoed, the "Red Head" at Keizersgracht 102. The lunch takes place from 13.00 -14.00 hours (1-2 pm).
The Amsterdam Bar is looking forward to meet you Thursday evening at the Welcom reception.